Skycorp solar Helios III Series Solar Inverter/Charger
Product Detail
Product Tags
Helios III(H3) series all in one off grid inverter without battery. Designed with built-in MPPT solar charge controller, AC charger and pure sine wave inverter for all-in-one convenience and versatility. It is the best choice for off-grid solar systems.
Off-grid inverters from the Helios III(H3) series are affordable and come in 24Vdc/3.5Kw and 48Vdc/5.5Kw models. supports operation without batteries. The integrated MPPT solar charge controller enables solar panel inputs between 120 and 450 volts, an open circuit voltage of 500 volts, a maximum input power of 5500 watts, and charging currents up to 100 amps. The remaining portion can be fed straight to the load. The primary inverter shares a transformer with the AC charging component, which uses the most recent bi-directional charging technology and can provide a charging current of up to 80Amp. While 48Vdc/5.5Kw supports up to 4000Watt of AC charging, 24Vdc/3.5Kw only supports up to 2000W. Pure sine wave AC output of 3.5Kw/5.5Kw is suited for all types of loads, including compressors, motors, air conditioners, and refrigerators. More load carrying capacity is supported by the double peak power.
The greatest option for solar systems in homes, RVs, yachts, offices, etc. is this.
Solar systems are less expensive to construct since they operate without batteries. In good lighting, supplement utility electricity by using a solar panel to directly power the load. To improve system stability and securely safeguard the lithium battery to extend its life, use RS232/RS485 to manage with the BMS of the battery using the Modbus or CAN communication protocol. Support for cell phone APP to monitor the system through WIFI or 4G.
Helios III(H3) series off-grid inverter makes you set up off-grid solar system with lower cost, powerful and stable. It is your best off-grid inverter choice.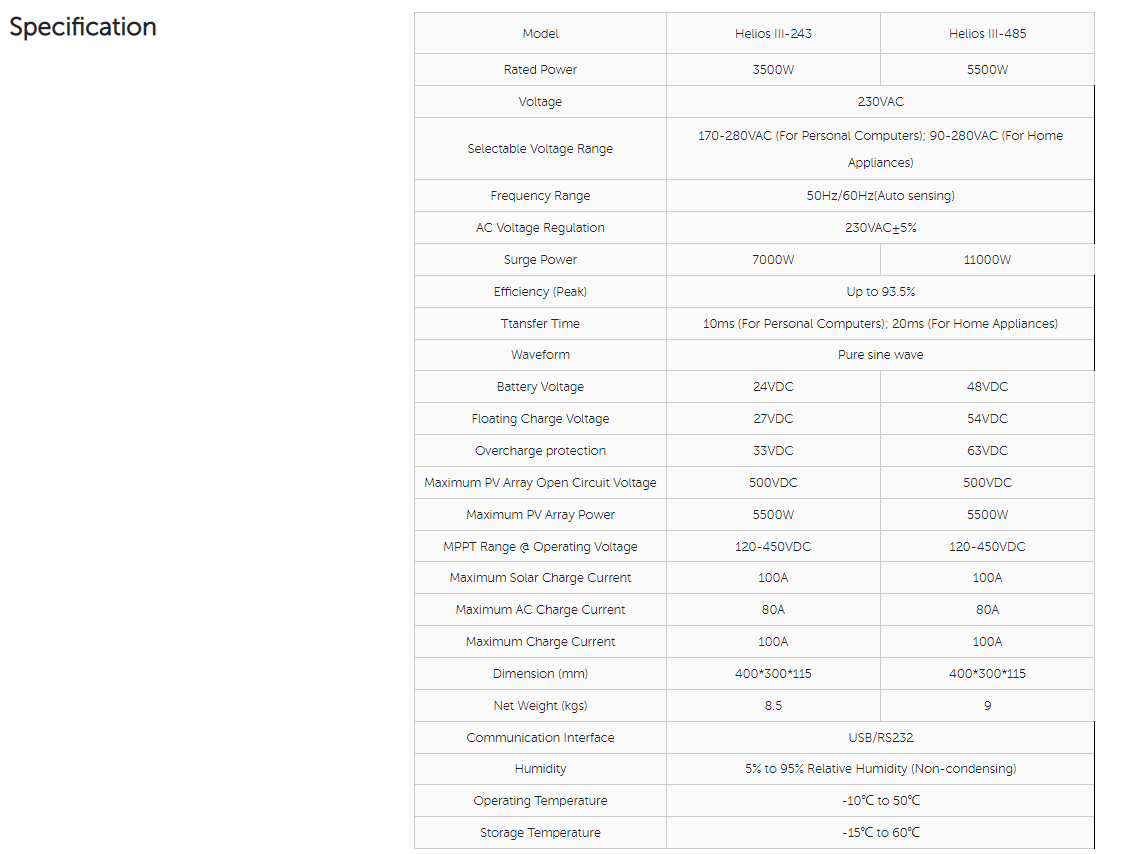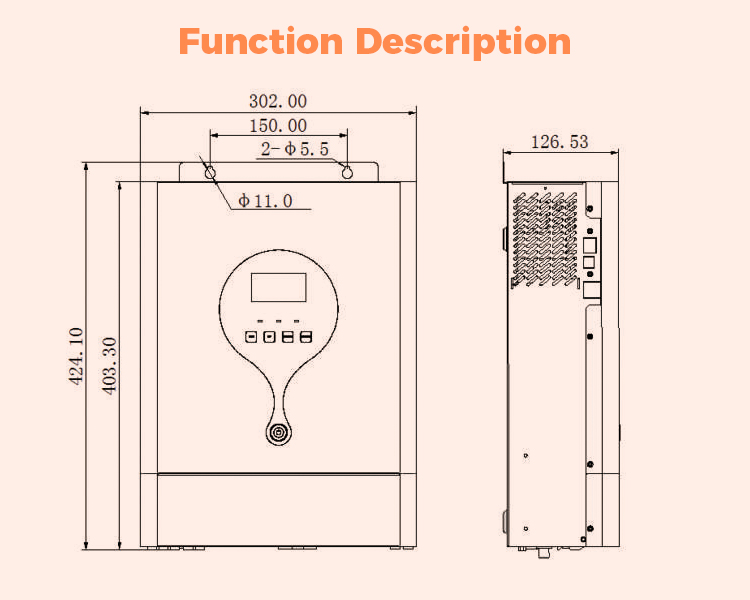 Off grid inverter
Output power factor COS φ =1.0
Configurable AC/Solar Charger priority via LCD setting
Smart battery charger design for optimized battery performance
Compatible to mains voltage or generator power
Overload ,Over temperature ,Short circuit protection , battery low voltage
External WIFI devices8.Can connect Bluetooth device
Our main products include
Battery Energy Storage System
Solar Battery Storage
Home Battery Storage
Solar Inverter With Battery
Solar Panel Battery Storage
Battery Energy Storage
Solar Battery Storage System
Solar Panel With Battery For Home
More and more.........
---
---
Write your message here and send it to us