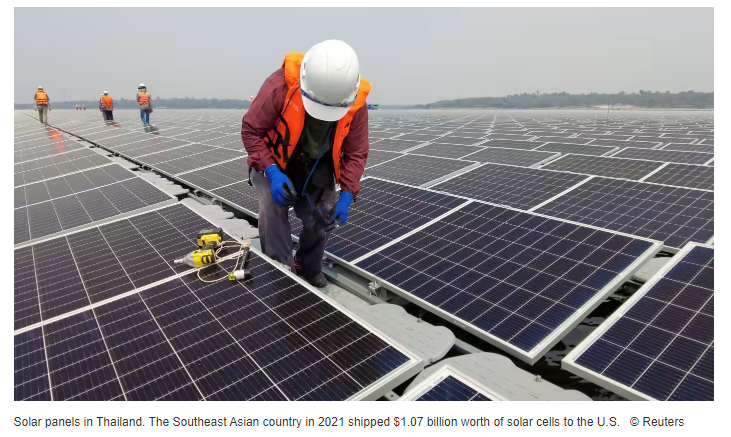 On the 6th of local time, the Biden administration granted a 24-month import duty exemption for solar modules procured from four Southeast Asian countries.
Back to the end of March, when the U.S. Department of Commerce, in response to an application by a U.S. solar manufacturer, decided to launch an anti-circumvention investigation into photovoltaic products from four countries – Vietnam, Malaysia, Thailand and Cambodia – and said it would issue a preliminary ruling within 150 days. Once the investigation found that there is circumvention, the U.S. government can retroactively impose tariffs on relevant imports. Now it seems, at least the next two years, these photovoltaic products shipped to the United States are "safe".
According to U.S. media reports, 89% of solar modules used in the United States in 2020 are imported products, the four countries mentioned above supply about 80% of U.S. solar panels and components.
Huo Jianguo, vice president of the China World Trade Organization Research Association, said in an interview with China Business News: "The Biden administration's (decision) is motivated by domestic economic considerations. Now, the new energy pressure in the United States is also very big, if new anti-avoidance tariffs are to be imposed, the United States itself will have to bear additional economic pressure. The current problem of high prices in the United States has not been solved, and if new tariffs are launched, inflationary pressure will be even greater. On balance, the U.S. government is not inclined to impose foreign sanctions through tax increases now because it would put upward pressure on its own prices."
China's Ministry of Commerce spokesman Jue Ting bundle was previously asked about the U.S. Department of Commerce on four Southeast Asian countries to start the investigation of photovoltaic products related issues, said we note that the decision was generally opposed by the photovoltaic industry within the United States, that will seriously damage the U.S. photovoltaic power generation project construction process, a major blow to the U.S. solar market, a direct impact on the U.S. photovoltaic industry nearly 90% of employment, while also undermining the U.S. community to address Climate change efforts.
Easing Pressure on U.S. Solar Supply Chain
The prospect of retroactive tariffs has had a chilling effect on the U.S. solar industry after the U.S. Department of Commerce announced the launch of an anti-circumvention investigation into photovoltaic products from four Southeast Asian countries in March of this year. Hundreds of U.S. solar projects have been delayed or canceled, some workers have been laid off as a result, and the largest solar trade group has slashed its installation forecast for this year and next by 46 percent, according to the U.S. Solar Installers and Trade Association.
Developers such as U.S. utility giant NextEra Energy and U.S. power company Southern Co. have warned that the U.S. Commerce Department investigation has injected uncertainty into the future pricing of the solar market, slowing the transition away from fossil fuels. NextEra Energy has said it expects to delay the installation of two to three thousand megawatts worth of solar and storage construction, which would be enough to power more than a million homes.
Scott Buckley, president of Vermont-based solar installer Green Lantern Solar, also said he has had to suspend all construction work for the past few months. His company has been forced to put on hold about 10 projects totaling about 50 acres of solar panels. Buckley added that now that his company can resume installation work this year, there is no easy solution to U.S. dependence on imported products in the short term.
For this Biden administration's tariff exemption decision, the U.S. media commented that in times of hyperinflation, the Biden administration's decision will ensure an adequate and cheap supply of solar panels, putting the current stagnant solar construction back on track.
Abigail Ross Hopper, president and CEO of the Solar Energy Industries Association of America (SEIA), said in an emailed statement, "This action protects existing solar industry jobs, will lead to increased employment in the solar industry and foster a strong solar manufacturing base in the country. "
Heather Zichal, CEO of the American Clean Energy Association, also said Biden's announcement would "restore predictability and business certainty and reinvigorate the construction and domestic manufacturing of solar energy.
Midterm election considerations
Huo believes Biden's move also has midterm elections in mind for this year. "Domestically, the Biden administration is really losing support, which could lead to a dismal midterm election result in November, because the American public values the domestic economy more than international diplomatic results." He said.
Some Democratic and Republican lawmakers from states with large solar industries had slammed the U.S. Commerce Department's investigation. Sen. Jacky Rosen, D-Nevada, called Biden's announcement "a positive step that will save solar jobs in the United States. He said the risk of additional tariffs on imported solar panels would wreak havoc on U.S. solar projects, hundreds of thousands of jobs and clean energy and climate goals.
Critics of U.S. tariffs have long proposed a "public interest" test to allow the elimination of the levy to mitigate broader economic harm, but Congress has not approved such an approach, said Scott Lincicome, a trade policy expert at the Cato Institute, a U.S. think tank.
Investigation continues
Of course, this has also upset some domestic solar module manufacturers, who have long been a major force in pushing the U.S. government to erect stricter barriers to imports. According to U.S. media reports, formation manufacturing accounts for only a small portion of the U.S. solar industry, with most efforts focused on project development, installation and construction, and proposed legislation to encourage the development of domestic U.S. solar manufacturing is currently stalled in the U.S. Congress.
The Biden administration has said it will help promote the manufacture of solar modules in the U.S. On the 6th, White House officials announced that Biden will sign a series of executive orders to enhance the development of low-emission energy technologies in the United States. This will make it easier for U.S. domestic suppliers to sell solar systems to the federal government. Biden will authorize the U.S. Department of Energy to use the Defense Production Act to "rapidly expand U.S. manufacturing in solar panel components, building insulation, heat pumps, grid infrastructure and fuel cells.
Hopper said, "During the two-year window of tariff suspension, the U.S. solar industry can resume rapid deployment while the Defense Production Act helps grow U.S. solar manufacturing."
However, Lisa Wang, assistant secretary of commerce for enforcement and compliance, said in a statement that the Biden administration's statement does not preclude it from continuing its investigation and that any potential tariffs resulting from the final findings will take effect at the end of the 24-month tariff suspension period.
U.S. Commerce Secretary Gina Rimondo said in a press release, "President Biden's emergency announcement ensures that American families have access to reliable and clean electricity, while also ensuring that we have the ability to hold our trading partners accountable for their commitments."
---
Post time: Aug-22-2022